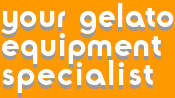 With over 35 years specialising in Ice Cream & Gelato the Italian Gelato Team are acknowledged as Australia's foremost suppliers of gelato equipment. You can see the world's best brands in refrigeration - Ital Proget, Hiber, Valmar, Tecfrigo, Klimagel, CAB and DeBlasi.
Contact


Bob McCarthy - 0411 089 142 bob@italiangelato.com.au
Bob de Groot - 0415 750 445 bobdeg@italiangelato.com.au
Jeff Grant - 0431 814 300 jeff.g@italiangelato.com.au
Our Ice Cream & Gelato specialists will listen to your plans and recommend the ideal combination of equipment from the extensive range of new and second hand options.

They will match equipment to meet your needs and your budget, and oversee your project through to installation, commissioning and beyond. Our national after sales support network of factory trained technicians and spare parts staff are available for your equipment throughout its life.